Marketing & Communication
You are here
Dominic McInerney, 40 ans, Responsable Marketing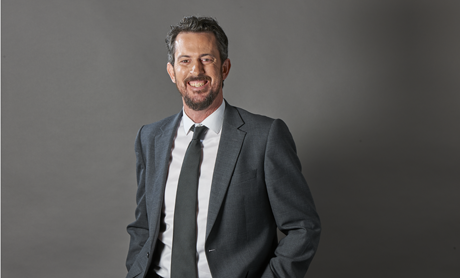 Après avoir occupé différentes fonctions, j'ai intégré le groupe V33 en tant que Responsable Marketing de la filiale du Royaume-Uni en octobre 2015. J'ai immédiatement été séduit par la volonté d'innovation et de créativité régnant au sein du groupe. L'opportunité de participer au lancement de la marque V33 au Royaume-Uni chez B&Q (acteur majeur du bricolage en Angleterre) a également été un facteur clé dans ma décision d'intégrer l'entreprise.
En tant que Responsable Marketing mes missions sont très variées. Je suis en charge du développement, de l'application de la stratégie de marque et d'élaboration des stratégies de développement produit pour Libéron sur le marché anglais.  Mon rôle est de trouver et d'exploiter toutes les opportunités en termes d'innovation et de croissance afin d'asseoir la marque sur le marché anglais. Comme par exemple, l'extension de la gamme de produits extérieures (lasures, peintures pour mobilier de jardin, peintures sol…).
Chaque jour, mes collègues et le service marketing international situé en France me fournissent motivation et inspiration. Le partage d'idées et de savoir-faire me satisfont pleinement. A mon sens, les salariés du groupe V33 partagent une passion pour l'innovation et les produits de qualité. Ils sont impliqués, solidaires, prêts à collaborer et à innover pour la croissance des marques V33 et Libéron.
Au quotidien, ils manifestent leur volonté de se soutenir les uns et les autres dans le but de fournir aux consommateurs une expérience de marque grandiose et de construire une relation à long terme avec eux.
 
​A peine arrivé, j'ai été impliqué dans le lancement (réussi !) de la gamme de peintures de Rénovation V33 chez B&Q : 10 semaines de travail intensif en compagnie de mon équipe, soutenue par le service Marketing International, pour tenir des délais très serrés. Au cours de ma carrière, je n'avais jamais participé à un tel projet !
Dominic McInerney
Responsable Marketing 
Claire Walter, 40. Operational Marketing Manager for France.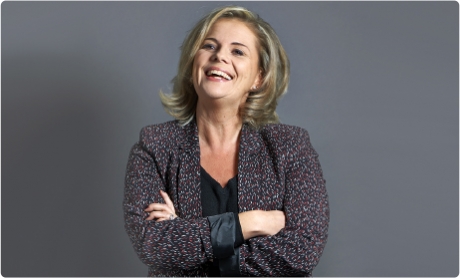 I was employed by the v33 Group in 2002 and have been promoted internally within since that time. I commenced as an Assistant Product Manager at Libéron, moving to a Trade Marketing Product Manager, Head of Trade Marketing, a sales position, Key Accounts Manager, and, since 2014, my present position of Operational Marketing Manager for France.
The goals are set in recommendations of Marketing plans: Products, markets, brands, and resulting actions for formulas, packaging, merchandising, promotions, and prices. All of this is done in direct with R&D, Purchasing, Sales, and Supply Chain.
The skills and qualities required relate primarily to good listening skills, being able to see the big picture, and management in order to enliven a team.
It is also necessary to be diplomatic and empathetic. A direct relationship with management, a visionary quality, and the ability to take a step back and make predictions are real assets.
V33 Group has many unique features, like being flexible, reactive, and unique in its ability to invest in its market.
V33 is also a group of very different lines of work ranging from research to sales, including industrial operations, support functions, supply chain management, marketing, sales, and R&D.
Claire WALTER
Operational Marketing Manager for France
All of our employees share a desire to develop, create, and innovate. They are talented and come from diverse backgrounds, drawn together by the simplicity of human relations in a family business, and a lifestyle here in Jura that allows a balance between personal and professional life.
Thomas Ventezou, 33. Operational Coordinator within the International Marketing division.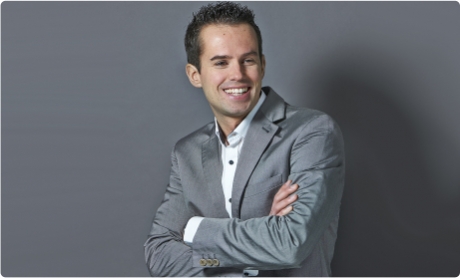 After eight years as Product Manager, International Marketing, I was appointed Operational Coordinator of the same division in early 2015.
As part of the strategy set by V33 Group, I coordinate the proposal, creation, implementation and verification of marketing actions that relate to the development of our brands and product lines internationally. This ensures consistency within our international business for our subsidiaries and distributors.
I like this job for its international perspective, which is very informative and enriching on an everyday basis.
This is because V33 Group's international presence has been growing constantly for several years, especially in the past two years.
Thomas VENTEZOU
Operational Coordinator within the International Marketing division
V33 Group is a human-scale family group. For over 50 years, the Grivel family has led the group in each generation, making it a proud example of national, regional, and local industry. This group which has kept growing for 50 years can boast of strengths including its product culture, appetite for challenge and risk-taking, proficiency in key elements of project management, and global perspective. These strengths today allow us to rival the largest groups on the European stage.
One feature that all employees of V33 Group have in common is the desire to push their limits. Everyone is involved in their work because they want to be. These shared values allow us to be very response compared to our European and global competitors.
Fanny Michel, 40. Training and Advisory Department Manager.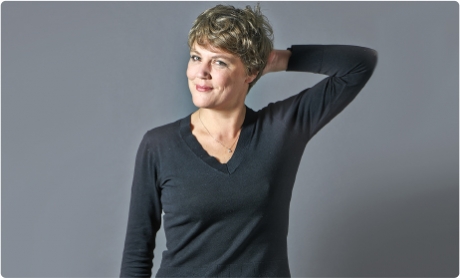 After holding several jobs in different fields, I started my experience at V33 in the Consumer Affairs department. I was hired following a six-month contract in 2008. Beginning in 2009, I have had the opportunity to dispense training at the Domblans site, and since 2012, elsewhere.
Today, I'm head of the department.
I manage a team of five people whose tasks include providing advice and technical replies to consumers, stores and sales teams about issues regarding the Group's products and how to use them. Our team is also in charge of dispensing technical product training to new employees and the sales team, as well as purchasers, stores and training firms.
My goal is to to develop the department and provide our technical expertise and consumer vision to other departments within the company. Primarily, this entails marketing, as well as sales and digital technology.
A broad technical knowledge and a good understanding of the products are prerequisites for this role along with good communication skills, composure, courtesy and friendliness.
Central to my job satisfaction is the people contact, imparting knowledge and customer satisfaction and be patient, courteous, persuasive, and friendly while knowing when to take a step back. You need good organisational and memory skills too.
V33 Group is a human-focused company with a bit of soul. I identify strongly with the Group and my products.
Being home to diverse types of people is part of what makes V33 so special, and also one of its greatest strengths and assets.
Fanny MICHEL, 40 ans
Training and Advisory Department Manager
Marine Richard, 25. Trade Marketing Project Manager.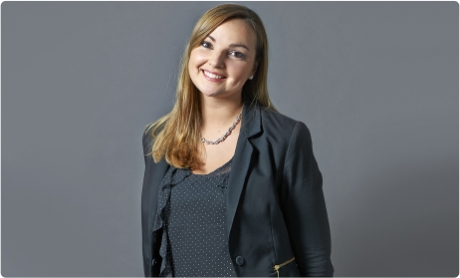 I joined the company in May 2013 as a Product Manager's Assistant as part of my Masters 2 studies in Marketing. After graduating, I was given the opportunity to join the Trade Marketing division as a Trade Marketing Project Manager in an interesting and constructive position.
The goal of this role is to stimulate the V33 and Libéron product lines from a sales standpoint. . This involves assisting the consumer in store, as well as highlighting our products and ensuring their visibility, in keeping with the Group's strategic priorities.
This position has the benefit of being highly diversified, and allows me to work in concert with different departments of the company such as Development, Marketing, Merchandising Sales and Logistics as well as many outside contractors.
Innovation is key to the Group's success. Marine RICHARD
Trade Marketing Project Manager.
Each year, we work on new products, new concepts, and new challenges.
V33 is also a promise that we'll never get bored at work, because it's motivating to work at a company that sets challenges and gives us the means to conquer them..
Working within this company is a chance to work independently in a trusting environment. Team spirit is a key value of Trade Marketing, and it's also what drives me each day.