Production
You are here
François Chavanon, 57 ans , Chef d'équipe Production
J'ai toujours eu une passion pour la technique. Après une première expérience professionnelle dans l'industrie pharmaceutique, j'ai intégré la société V33 en décembre 2007. Après 5 ans, je me suis vu quitter l'entreprise pour la rejoindre à nouveau en février 2013.
J'ai rejoint V33 dans un premier temps pour le cadre dans lequel se trouve la société, au cœur du Jura, loin des grandes villes et dans une région magnifique. Après un an d'absence, je suis revenu pour son état d'esprit et son ambiance chaleureuse. On se sent bien chez V33…
Le métier est complexe en raison du nombre de références et de la multiplicité des bâtiments, mais chacun essaye de faire de son mieux, ce qui rend le travail encourageant et motivant.
En qualité de Chef d'équipe production, principalement rattaché au conditionnement, ma mission principale est d'assurer le bon fonctionnement de huit lignes de fabrication. Mon travail au quotidien est d'assurer un suivi quantitatif et qualitatif de la production.
Très peu devant un ordinateur, je suis principalement sur le terrain, ce qui rend les relations humaines avec les opérateurs très fortes.
Pour exercer mon métier il faut être réactif, prendre la bonne décision au bon moment. Il faut être disponible pour pouvoir intervenir en cas de difficulté technique. Enfin il faut être fédérateur pour maintenir une cohésion et une motivation d'équipe. 
Ce que j'aime dans mon métier c'est qu'il n'y a pas de journée type.
François Chavanon
Chef d'équipe Production
Nelly De Vettor, 55. Line worker.
I've worked at the V33 Group for 20 years. After being hired on a limited-term contract and securing a more permanent job soon after, I held several positions including manufacturing floor stain brushes and making and packaging wood putty. . I now work on a paint line, where I package V33 products.
In this work, you need to be thoughtful, motivated, careful, active, and exacting. Depending upon the packaging order received, the work mainly consists of adjusting the production line, packaging the products, identifying and packing them to be loaded on to pallets.
I chose V33 Group because it's a company located in a green setting, close to where I live. It's a company that's earned a reputation, that never stops growing by creating new products.
At V33, employees want to do their best.
Nelly De Vettor
Line worker
They apply themselves at work to satisfy customers, and are mindful of product quality. V33 Group takes care to keep its employees motivated, such as by organising regular meetings to discuss issues and enjoy each other's company, offering them trips and prize drawings.
Olivier Gand, 43. Workshop scheduler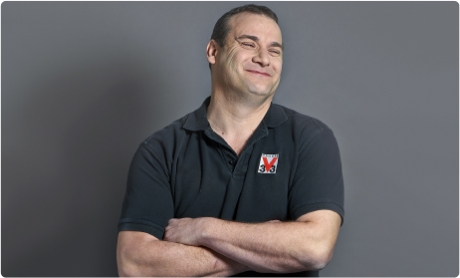 I joined V33 in January 1992 as a paint production worker in the wood stains shop, making solvent-based products. When it opened in2002 I transferred as a team leader to the division which produces water-based products. In time, I was appointed a scheduler.
My work consists of of issuing and scheduling production orders. It is important to prioritise and clear inventories, tracking these factors using our integrated management system (SAP).
I work mainly with the production and packaging team leaders, and I also liaise with the staff in both the test laboratory and Research and Development.
Olivier GAND
43. Workshop scheduler
What I like about the V33 Group is that it's a chemical company out in the country. It benefits from its young, dynamic teams. We have a positive mindset and a great desire to help the company grow.