Mask&Color, the paint revolution!
You are here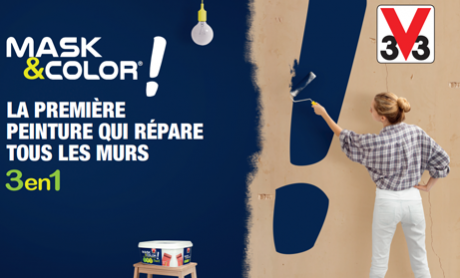 Because V33 makes quality of life a priority for its consumers, we are always innovating to make your DIY projects easier.
In 2017, V33 is launching an exciting innovation as the company releases the first paint capable of both repairing and decorating all walls: Mask&Color®!
Mask&Color® by V33 is a new generation of paint specially designed to renovate, repair, refresh or re-decorate all walls of the house that are already painted and/or damaged. Thanks to its innovative texture, Mask & Color® combines the easy application of a paint, the technical excellence of an undercoat and the performance of a filler: a 3 in 1 product! With 98% opacity, its revolutionary texture guarantees optimal coverage for a flawless finish. And what's more, it comes in an on-trend matt colour chart to suit every decorating taste!
V33 is a constant source of smart solutions for easy renovation of every wall in the home.