Nude and V33 take the Brand Janus award for the Hypnotik concept
You are here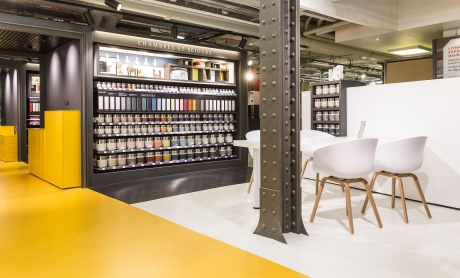 V33 and Nude, an advertising agency based in Lyon, won the Brand Janus award in late 2017. A prize awarded by the French Institute of Design in recognition of "companies and communities that make a long-term contribution to progress for people, industry and the city".
This official label was awarded to Nude and V33 jointly for their work in the BHV Marais department store: the Hypnotik shop-in-shop.
In 2016, the agency developed a practical and original concept for installation on the lower ground floor of BHV Marais. The idea was to immerse the consumer in a world of materials, colours and textures, leading to the Hypnotik concept.
A brand, product offering, venue and advertising tools were deployed around this original idea. Meeting the criteria of the "Five Es" stipulated by the Janus jury – Economy, Ergonomics, Esthetics, Ethics and Emotion – Hypnotik finished in first place.
Congratulations to the Nude and V33 teams for their inspired and inspiring work!
Discover the Hypnotik experience on the lower ground floor of BHV Marais, rue de Rivoli and BHV Parly 2.