V33 starts e-commerce operations!
You are here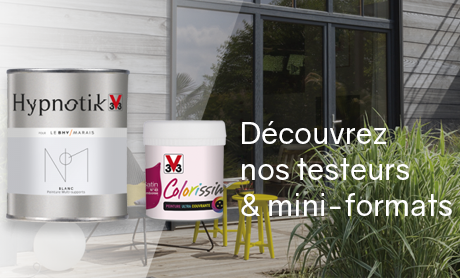 Fancy repainting your bedroom or a piece of furniture but not sure which colour to choose? V33 has the answer! From January 2018, you can now buy testers on the website boutique.v33.com.
Several different ranges are available online:
Colorissim
Hypnotik
Direct Protect
DecoLAB
High Protection Woodstains.
With formats ranging from 0.075L to 0.25L, you can now test and decide on your colour or colours in real-life situations.
The process is simple: select one or more testers, pay for your order and then a carrier will deliver to your home or a collection point. Nothing could be simpler!
This e-commerce initiative is an inter-departmental project combining the expertise of:
Sales,
Communication – Digital,
Accounts,
Management Control,
IT Services,
Logistics,
Customer Services.
A first step for V33!
See all our testers at: https://boutique.v33.com/ or via the V33 website https://www.v33.fr/.