Developing white paints in Russia
You are here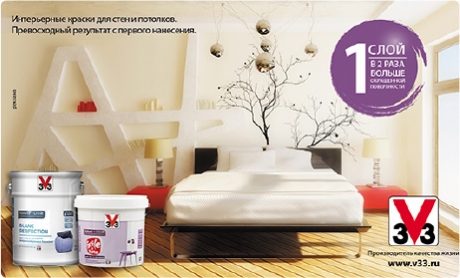 By opening its seventh subsidiary in Russia, the V33 Group is accelerating its international development. In this country, 27 times the size of France, there is tremendous potential for growth. With a 15 to 20 percent increase over the past few years, the paint and wood products DIY market is growing at an exponential rate. The arrival of V33 supports this.
The successful launch of a wood product line last year has strengthened the V33 Group in its development ambitions.  It is natural yet still a bold move for the company to enter the paint market in Russia. 
As the first true one-coat white paint in a country whose consumer laws are very different from those of France, V33 hopes to gain legitimacy through its technical advantages. With a small line of two products, a basic paint and a premium paint, V33 is groundbreaking by offering a genuine one-coat product, highlighting its price/performance/ease of use aspects in order to attract consumers. 
In stores since January 2015, these new paints were launched in Leroy Merlin, Russia locations. To accompany this launch, a press campaign was rolled out nationwide.