Multi-Brand Press Showroom for 2015
You are here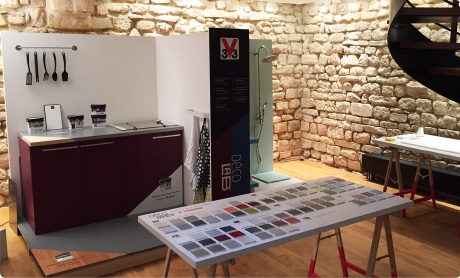 What could be better than media events to publicise our new products? This essential meeting with journalists in the DIY sector is a chance for the V33 Group to present its innovations. This year, 60 journalists attended.
Among the new products featured were the Home Solution and Deco Active lines, as well as the Mes Couleurs et Moi wall paints, which drew the most positive criticalcomment from attendees.
A new addition for V33 this year was a special meet-up for bloggers. The product display was accompanied by a creative workshop to test out new solutions from Libéron and V33. It was a successful exercise, and an experience worth repeating.
The event came together in a beautiful Paris studio, with several brands sharing the space to feature their own products.
Organised by the press relations firm Terre de Roses, the annual event was a great opportunity to learn and share.